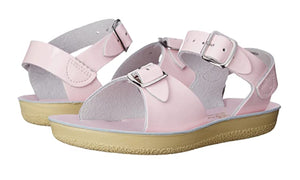 The Sun-San Surfer in shiny pink is
 one of our best sellers for girls. A classic two strap sandal with adjustable ankle strap and toe buckle makes it the best all rounder for both wide and narrow feet. The Surfer comes in many colors, including metallics. 
  Rust-proof brass buckles and scuff-resistant water friendly genuine leather make them ideal for in and out of water wear. They clean up so easily, and with proper care will last for years.