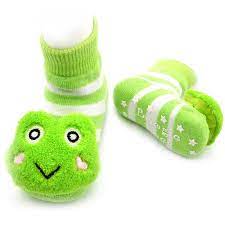 These froggies will surely jump straight into your heart with their heart-shaped faces and little pink heart cheeks!
Green and white stripes add to the fun and funky vibe these adorable socks bring to the party.
Eco-friendly, rubber grip-bottoms provide traction for new walkers. And wide-eyed frog faces double as rattles.
Boogie Toes are the perfect addition to any kid wardrobe and make great gifts too! 
100% Combed Cotton Rattle Accessory Sock. Hand Linked. Satisfaction Guaranteed, 80% Cotton / 15% Nylon / 5% Spandex