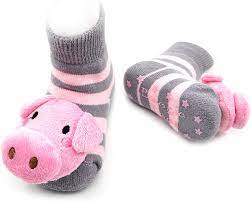 Your kid's little piggies never looked so good or felt so cozy!
Friendly farm animals will always be time-honored favorites of toddler boys and girls everywhere.
These cute pigs are no exception with pink and gray stripes and eco-friendly rubber grip-bottoms that provide traction for new walkers. Cute stuffed pig faces even double as rattles.
Boogie Toes are the perfect addition to any kid wardrobe and make great gifts too! 
100% Combed Cotton Rattle Accessory Sock. Hand Linked. Satisfaction Guaranteed, 80% Cotton / 15% Nylon / 5% Spandex