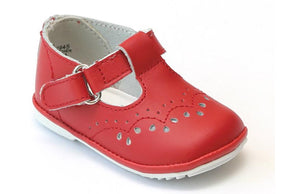 Angel Baby 2945 Birdie T-Strap Mary Jane Red
Birdie is our long time classic and favorite t-strap style for babies and tots. Fine stitching and darling bead shaped perforated design make this shoe absolutely irresistible.
There is not a single occasion for which Birdie is not appropriate for, from holidays to Easter. Pair with smocked clothing and darling knee socks for maximum cuteness.