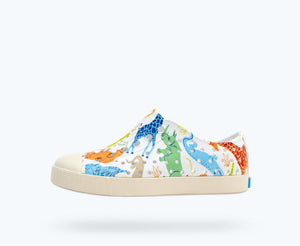 Candy Green/ Shell White/ Raincoat Sunsmile
Currently, this product cannot be sold online.  Call us today at (843) 884-4814 or fill out a contact form with the necessary information to order today!

No unfamiliarity for the foot here, the Jefferson is the fearless leader of our EVA offering. Encompassing all of the fine features that you'd expect from a Native shoe, the Jefferson is shock absorbent, odor resistant, hand-washable, and comes in an infinite assortment of colors and treatments. Expect nothing less from the conductor of the lite-weight express.
MATERIALS
Injection Molded EVA Construction
Rubber Rand and Toe