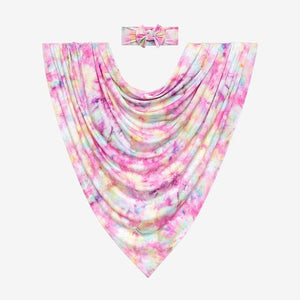 Joplin Infant Swaddle and Headwrap Set One Size
Currently, this product cannot be sold online.  Call us today at (843) 884-4814 or fill out a contact form with the necessary information to order today!
Our signature Päpook® viscose from bamboo baby swaddles is breathable, lightweight, stretchy, and extra-large. Bamboo's natural weave makes swaddling a breeze and is flexible enough for a nice, snug swaddle with enough wiggle room. Bamboo baby swaddles wick moisture and have the perfect amount of stretch for wrapping in the newborn stage and are versatile as your peanut grows. Posh Peanut® bamboo swaddles make great stroller blankets, nursing cover, receiving blankets, and more!
FEATURES:
44 X 44 inches // 111cm X 111cm
Individually packaged in a posh gift box
Includes 1 swaddle and 1 matching headwrap
95% Viscose from Bamboo, 5% Spandex
Original swaddle design
Lightweight & breathable
Wash on delicate // Tumble dry low or line dry