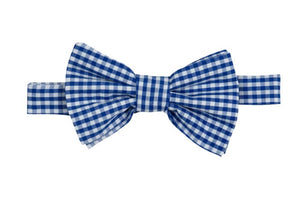 The Beaufort Bonnet Company Baylor Bowtie Broadcloth Rockefeller Royal Mini Gingham
Currently, this product cannot be sold online.  Call us today at (843) 884-4814 or fill out a contact form with the necessary information to order today!
The Baylor Bow Tie is a must-have for every dapper little gent's wardrobe! In this classic Rockefeller Royal Mini Gingham tie, your little guy is sure to be dressed to the nines for any occasion.
Fits age 2 to 12.
5% Cotton 45% Polyester
Spot clean or dry clean only.